By Kyra Fox
It was another record-breaking weekend for Marvel's Black Panther, which came out in theaters earlier this month. The film is predicted to pass $1 billion at the global box office, and the response around the world has been overwhelming.
If, like us, you were inspired by the cosmic, futuristic vibes of Marvel's latest blockbuster, then Afrofuturism may be your newest kick.
Though brought to the world stage by Black Panther, the concept of Afrofuturism has been empowering people to think of a Black future for decades.
We took a look at the up-and-coming cultural aesthetic.
What is Afrofuturism?
In in his 1993 seminal essay "Black to the Future," cultural critic Mark Dery questioned why so few African Americans wrote science fiction, a genre, according to Dery, whose "close encounters with the Other – the stranger in a strange land – would seem uniquely suited to the concerns of African-American novelists."
Dery's essay introduced the concept of Afrofuturism, a movement in literature, art, music, and film that features a Black or African future.
"Afrofuturism situates itself against the impulse to correct the past," said Ainehi Edoro, assistant professor of global Anglophone literature at Marquette University and founder and editor of Brittle Paper. "It says, look, colonialism happened, slavery happened. What we need to do to fight that logic is not to correct the past, but to begin to imagine futures based on Blackness."
Since its inception, Afrofuturism's cultural influence has been palpable.
"The capacity to think of the future is a powerful political expression," Edoro said. "To be a slave meant to not be able to think of a future, to not be able to own a future, because you are owned by someone else who imagines it for you and defines it for you.
"That's why the very idea of Afrofuturism has always been revolutionary and political – to say that we cannot only imagine the future, but we can imagine the future as Black."
Our top picks
Black Panther represents a big moment for Afrofuturism. But director Ryan Coogler was not the first Afrofuturist creative to push the movement to new levels.
We compiled some of our favorite recent Afrofuturist works of literature, film, design, and expression.
Literature: The Binti Trilogy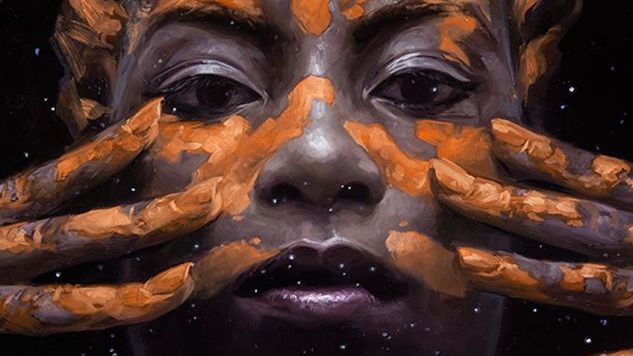 Nnedi Okorafor's trilogy, the finale of which came out last month, features a young woman of the Himba tribe who is the first of her people to attend a university in outer space.
Okarafor described the three novellas as, "African girl leaves home; African girl comes home; African girl becomes home."
Through Binti's exhilarating journey, the novella series explores the tension between tradition and novelty. It  won the Hugo and Nebula Awards for best novella.
Check out the thrilling saga here.
Art: "Shanty Mega-Structures"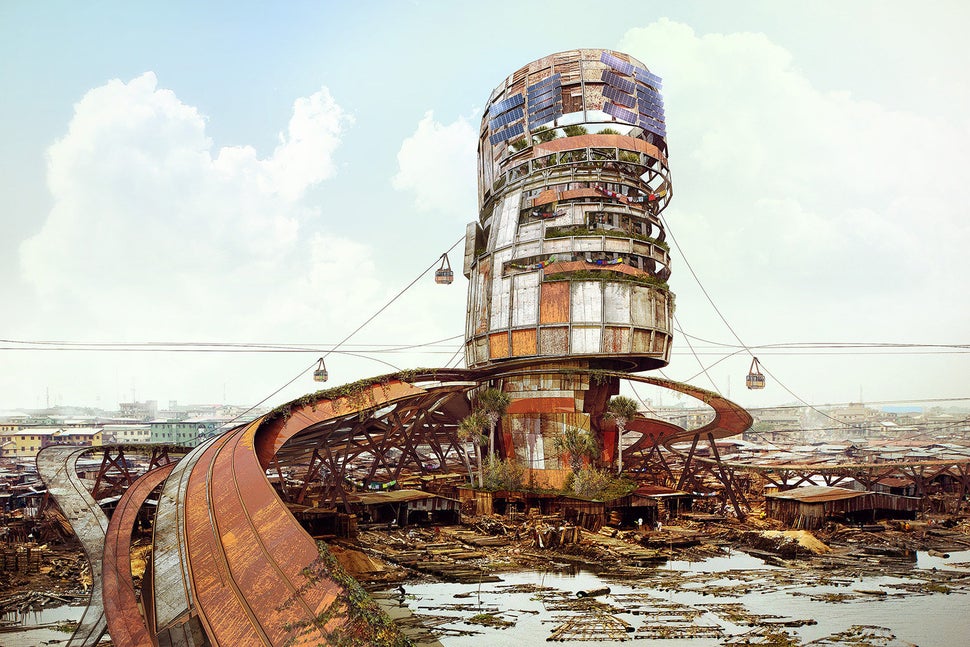 Nigerian artist Olalekan Jeyifous drew inspiration from the slums of Lagos to reimagine a futuristic vertical city of shanty towns.
His "Shanty Mega-Structures" project, which uses photographs and computer models to create "conceptual collages," highlights often-overlooked communities and the importance of an inclusive vision for the future.
"Development should include the disenfranchised and not just the rich or middle class," Jeyifous told Huffington Post. "An aspect of the project is to examine the ways in which the nature of impoverished spaces, which are not only highly self-organized but also deploy sustainability practices as a matter of necessity [and] can be applied to cities undergoing massive population growth in order to reconcile environmental and socio-economic issues."
View the fruits of Jeifous' project here.
Film: Pumzi (2009)
Named after the Swahili word for "breathe," Pumzi is a Kenyan short-film that features a war-torn, dystopic society 35 years after World War III.
In the movie, a scientist tries to bring her discovery of plant life to East African survivors confined to contained communities after society's recent water war.
Writer and director Wanuri Kahiu told Wired that she was inspired by traditional African cloth and 1950s classic films. "We already have a tradition of tapestries and functional art and things like that, that loan a backdrop for films," Kahiu said.
Watch the short film in full here.
Literature: Everfair
Nisi Shawl's Everfair imagines a Congo never terrorized by King Leopold. Instead, in Shawl's world, Congo was snatched back from Leopold's grasp and built into a utopia called Everfair.
"Everfair gestures toward planetary imaginaries that are built around Blackness," Edoro said. "What if the scramble for Africa didn't happen? What if Congo was this utopian community built around Blackness?"
Shawl dedicated her debut novel to Octavia Butler, one of the 20th century's great Black science fiction authors, by placing Everfair's fate in the hands of its women.
Read a review of this gripping alternate history here.
Dance: Afrofuturism Dance Therapy
The Afrofuturism movement extends beyond the realms of literature and the material arts. Ytasha Womack's dance therapy encourages people to "release their inner Afrofuturistic thoughts through movement."
The goal of Womack's model is to use freestyle dance to give people the space to express their dreams for the future. She draws her inspiration from movements in the African diaspora and on the African continent.
"You can get involved [in Afrofuturism] from any perspective that makes the most sense to you," Womack says. "It can be as deep as you want it to be, and it can be as light or refreshing as you want it to be as well."
Learn more about Womack's dance therapy workshops here.
Still haven't got enough of Afrofuturism? Check out OkayAfrica's list of 10 Afrofuturistic music videos and The Guardian's top picks for Afrofuturism films.
Thank you to Ainehi Edoro and Matthew Brown for their guidance and artistic recommendations.